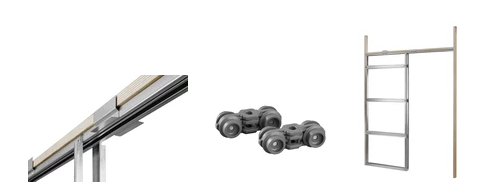 Are you looking for a sliding door solution? Thinking of purchasing a sliding door track that slides along an external wall? Why not convert a door, even your existing hinged door, into a sliding door solution that is hidden away in a pocket in the wall. A door that is there when you need it, buthidden when you don't.
 
Why? Not only do you free up usable floor space that would be taken up by the swing of a hinged door, but you also save wall space when the door hides away in the wall rather than sliding along the outside of it.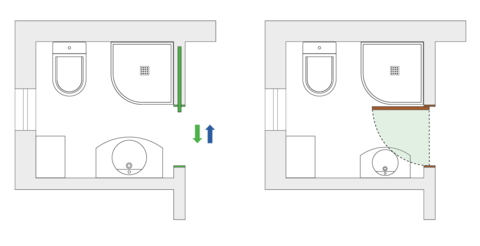 So take your sliding door project to the next level by enabling your door to slide into a pocket into the wall. Instead of buying a sliding door track and sliding door gear purhase a pocket door kit that will include everything you need...
OUR SLIDING POCKET DOOR KIT INCLUDES:
Pocket sliding door track - choose from 6 kit sizes to fit 6 different standard UK door sizes
Runners - with carbon steel 'sealed for life' bearings that insert easily into the track and have a quiet, smooth movement.
FREE door furniture - choose from a free flush pull or a round or oblong bathroom lock.
All the galvanised steel uprights, horizontals and fixings required to build the pocket.
Adjustable pocket entrance guide which will enable you to assemble the kit for a 35mm or 44mm door.
Door brackets for the top of the door, rear door stop, door brake, and fixings. Adjustable bolt and nuts for runners plus spanner. Screws to assemble frame and screws to attach plasterboard to pocket.
Full instructions come with the kit and an installation video is available on our website here.
A 12 year guarantee
Each kit is designed to fit a specific door size, with no cutting or trimming of the pocket or track necessary.
ALL KITS ARE THE SAME FANTASTIC PRICE OF £119.50 + VAT