Improve your bathroom layout.
Make the space in your bathroom seem bigger without moving walls.
Free up wall space by getting your door to slide into a pocket in the wall instead of sliding along the outside of the wall.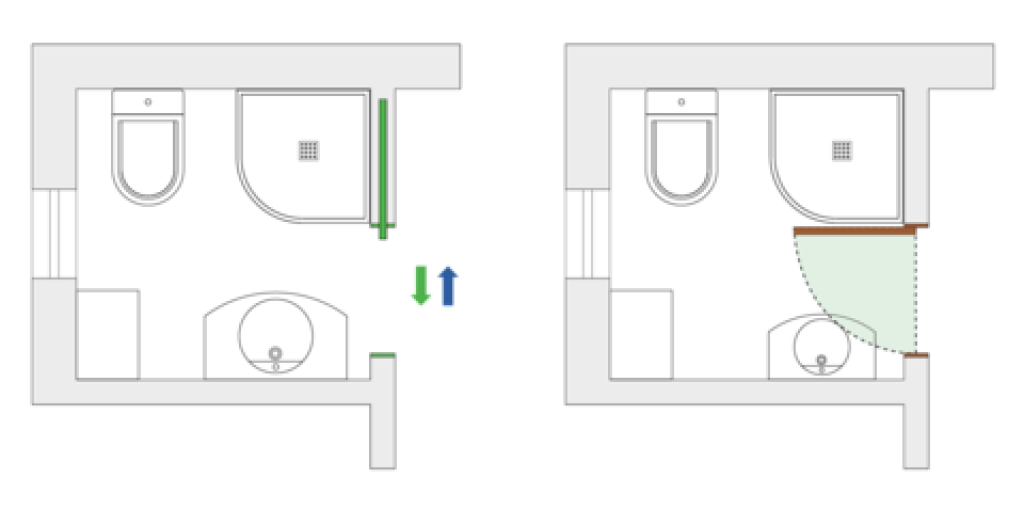 A sliding pocket door versus a hinged door

 
REPLACING YOUR HINGED DOOR WITH A SLIDING POCKET DOOR IS AN AFFORDABLE WAY TO MAKE YOUR BATHROOM FEEL BIGGER.
The swing of a hinged door can be a real problem when trying to design a bathroom layout or cloakroom layout where space is limited. Often the door swings into the bathroom restricting where you can place your sanitary ware or it swings out into the hall or corridor.
You could install a simple sliding door that slides along the wall as a solution. The disadvantage of doing this is that the door then takes up wall space and the track and sliding mechanism and floor guides etc is on view. 
There is a simple alternative solution to this problem... replace your hinged door with a pocket door.
What is a pocket door?
A pocket door is a door that is top hung from a track and that slides into a pocket in the wall (so there is no track in the floor). The pocket fits inside the stud wall, so it needs to be robust as it is replacing the stud work in your wall. When the door is opened it slides into the pocket in the wall and so does not take up floor space or wall space.
Rocket Pocket Door Kit.
This inexpensive, yet strong and reliable pocket door kit will allow you to create a pocket in your wall which the door can then slide into. This will make your bathroom look and feel bigger, you will gain usable floor space and the sliding door will not take up wall space. 
WHAT DO YOU GET WITH THE ROCKET POCKET DOOR KIT?
All our kits are priced at the same affordable, low price of £119.50 (ex Vat) and the kit comes with all the pieces needed to create a sturdy steel pocket with integral track that then fits into your stud work.
When you buy a Rocket Pocket Door Kit you will get:
All the galvanised steel uprights and horizontals required to build the pocket, plus the track.
The brackets to fit the frame to the stud work that double as plasterboard positioners and supports
Adjustable pocket entrance guide which will enable you to assemble the kit for a 35mm or 44mm door
Runners with carbon steel 'sealed for life' bearings that insert easily into the track
A door brake.
Door brackets for the top of the door, rear door stop and fixings. Adjustable bolt and nuts for runners plus spanner. Screws to assemble frame and screws to attach plasterboard to pocket.
a 12 year guarantee
Each pocket door kit is designed to fit a specific door size, with no cutting or trimming of the pocket or track necessary.
Our company is very highly rated on Trustpilot for both the quality of our products and our customer service.
"Excellent product. Does exactly what it says on the tube. Followed the instructions to the letter and now have a door that slides elegantly in and out of the new wall. Will definitely use this product again."
 "Cleverly designed and thoughtfully explained throughout. The biggest challenge was removing staples from the robust packaging".
"Fantastic company to deal with. Excellent communication throughout.
A+++++++++++"

 
CHOOSING THE RIGHT ROCKET POCKET DOOR KIT FOR YOUR BATHROOM IS EASY...
Simply choose the sliding pocket door kit that fits your bathroom door size (See table on shop page) . We have pocket door kits to fit 6 standard UK door sizes which are all priced at the same great price of £119.50 (ex Vat).
Buy online here or contact our customer services team on 0330 9980617 to order.
Order before 1.30 pm on any working day and we will aim to dispatch that day for delivery on the next working day.
For instructions or help installing your rocket pocket door see our Installation page, email us oninfo@rocketdoorframes.co.uk or call our Customer Service line on 0330 9980617.